by Christine on May 2nd, 2011
filed under Christine's Life Updates, Gastric Banding Surgery
Good morning Revolutionists, and it's a good morning, too, with one less terrorist out there plaguing the world. Congrats to our servicemen for getting Bin Laden, and my thanks for keeping us all safe.
It's been a busy weekend for me, but kind of relaxing as well. Friday I woke up at 3:30 a.m. to watch the Royal Wedding. I know…the whole Royal Wedding thing is silly and trite, especially since they are not my monarchs! When I was a little girl, I remember my mom letting me stay awake all night long so I could watch Princess Diana marry Prince Charles. It is a very strong memory for me. My mom is a big fan of the British Royalty, and watching that wedding was like watching a fairy tale come true.  I wanted to watch the wedding because of that memory with my mom and to let a little modern-day fairy tale enter into my life.
Plus, London is one of my most favorite places in the world. I love to broadcast showing London landmarks that I love so well–Trafalgar Square, Buckingham Palace, Hyde Park, etc. Those places bring back a lot of memories for me.
Friday I went home after work, read my book a little bit, and went to sleep early.
Saturday I went out with a friend to the Museum of Firefighting in Hudson, NY. There were a lot of fire trucks there, which were pretty cool. However, there was disappointing little on the design of fire stations, which is what we were looking to learn about.  It was a beautiful day for a drive, and on the way we stopped at the Chatham Brewery in beautiful Chatham, NY, Huds0n-Chatham Winery in Ghent, NY (a really lovely place, with some great cheeses too!), and Harvest Spirits Distillery in Valatie, NY.  All three of these places we visited had great wines/vodkas and had a picturesque drive to get there. It was a great trip!  For lunch we stopped at Four Brothers Pizza. They have a few locations in the Upstate NY region. I used to absolutely LOVE their garlicy pizza, but unfortunately I can't eat pizza anymore.  Instead I ordered a side salad (which was huge, and the salad dressing was delicious) and the veal parm sandwich (minus the bread). Unfortunately the veal was thin, dry, and deep fried. Not tasty or healthy. The salad was a much better value.
Sunday morning I took about 20 bags of top soil and tried to fill in a sand pit in our back yard, where our above-ground swimming pool used to stand. I put down grass seed. It was a lot of lifting and raking, and today my back in aching so I know I got a workout in. I also went for a short walk to enjoy the beautiful weather!
In the afternoon the hubby and I went to his boss's beautiful 2nd home to celebrate his wife's (and the company's Office Manager)'s 40th birthday.  For her birthday he got her an awesome limited edition Porche convertible. It's totally sweet! I hope she can take me for a ride in it sometime!
In the evening we had a few friends come over to watch Game of Thrones, the new HBO series with us.  Hubby and I have been fans of the Game of Thrones book series by George RR Martin for years. It's our favorite book, and my cat Arya is named after one of the main characters! The HBO series is really well done and is in keeping with the book. We're loving it…check it out if you like that kind of thing.
I ate a little more than my calorie alotment on Saturday (thanks to the alcohol + fried veal, boo!) but I ate under my calories yesterday. Therefore, it was no surprise that I was at the same weight this morning…127.0.  I'm still in maintenance range.
I'm only one month away from my port surgery.  I'm nervous about it and I'm unsure of how much the surgery to replace my port will hurt. Will it hurt as much as the original surgery? Will it be easier on me? Will they need to inflate my tummy with that awful gas? Will I need to be knocked out? I'm stressing out about these details!  I will be glad when it's done though. The other day I was wearing a skirt with an elastic band, and it was riding on my protruding port site. Boy, it really hurt, and I was really sore for hours that day. I can't wait to get that fixed.
by Christine on May 3rd, 2010
filed under Christine's Life Updates, General Information
Ah. I woke up this morning with Great Expectations to have reached the 75 pound milestone, but alas, it was not meant to be. My body is still stuck at the 74.5 pound weight loss mark.  Soon! Perhaps tomorrow?  Wednesday?
This weekend was fun and, in some ways, a challenge to my weight loss efforts.  On Saturday I went to my first New York Yankees game!  We took a tour bus down to the City, which in some ways was great — no dealing with parking, tolls, and dumb drivers.  (On the way down I ate a lunchable ham & cheese set, but I only ate about 1/3 of them. 113 calories.) Yankee Stadium is gorgeous, clean, shiny and new!  Because this was my birthday present, I decided not to watch what I eat so closely.
Ha! Of course, the first place we passed was a natural food stand, with apples, oranges, salad fixins, etc. I should have gotten a salad, in retrospect.  Instead, I was dying for some good baseball food. I chose a sweet Italian sausage. I had about one-third of the sandwich and almost none of the bun. It was not very tasty, and I was glad to throw the rest out.  ($8 down the drain. 76 calories)  I then ordered  Heiffeweisen beer, and that was well worth the money! ($6 I think? And 130 calories).  Later in the game I ordered a frozen yogurt and ate half of it (I gave the other half to my husband). That was another $5 or so, and perhaps 175 calories?  I snuck in a red bull, and that was 100 calories.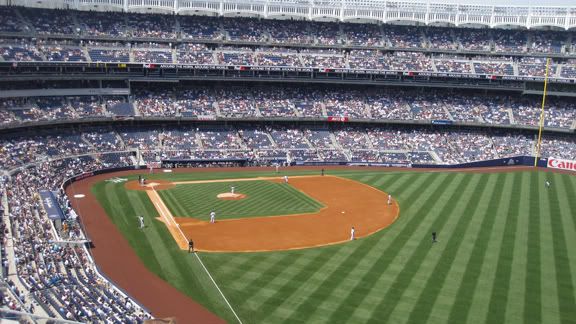 After the game, I was hungry. I hadn't eaten much, and what I ate was not filling to me. See, I should have gotten the stupid salad!  What was I thinking? Our bus stopped at a rest area and I got a Whopper Junior and ate half of it (minus the bun) for 125 calories perhaps?   In total I had somewhere in the area of 800 calories, which is right about normal for me. Not bad for a "free" eating day, although I could have made much, MUCH healthier food choices.
Sunday I made up for all the bad choices by waking up and going immediately to the gym. I got a decent full-body weight training workout in the first 30 minutes (I have shoulder DOMS today!).  I typical weight train by doing four reps of about 10-12 lifts: each rep increases the amount of weight until the last rep, when I am shaking with effort.  I then did 30 minutes on the stair stepper.  I then jogged 1 mile at my usual speed (5.0 mph) but then decided to try 1 mile at a faster pace (6.0 mph). It kicked my butt — I could feel my heart racing, but I did it!  I spent the next four hours doing some housework: sanding and painting our modified television cabinet; cleaning out my vegetable garden; lifting heavy bags of garden soil; trimming the hedges; raking; cleaning the garage out. I was absolutely soaked in sweat when I was done with the day. I estimate that I probably burned 1000-1500 calories for the day.  I drank a TON of water. I should have eaten more though: After working out I had half of a protein shake (125 calories). I had a tunafish and vegetable salad for lunch, which I only ate half of (150). For dinner I had grilled steak, about 2 oz (110 calories); baked beans, not quite half a cup (120); and half a slice of texas toast (75 calories). Later I had two girlscout cookies (70 calories). That puts me in at 650 calories for the day, which was too low even for me.  I should have had more veggies, but I ran out; we need to go to the grocery store after work today!  These were unusual days for me: normally I eat 6-8 times a day, at 100-150 calories per "meal."
It was a rewarding and productive weekend. I hope I can say the same about my work week!
Wish me luck that I reach the 75 pound weight loss mark this week!