by Christine on May 3rd, 2010
filed under Christine's Life Updates, General Information
Ah. I woke up this morning with Great Expectations to have reached the 75 pound milestone, but alas, it was not meant to be. My body is still stuck at the 74.5 pound weight loss mark.  Soon! Perhaps tomorrow?  Wednesday?
This weekend was fun and, in some ways, a challenge to my weight loss efforts.  On Saturday I went to my first New York Yankees game!  We took a tour bus down to the City, which in some ways was great — no dealing with parking, tolls, and dumb drivers.  (On the way down I ate a lunchable ham & cheese set, but I only ate about 1/3 of them. 113 calories.) Yankee Stadium is gorgeous, clean, shiny and new!  Because this was my birthday present, I decided not to watch what I eat so closely.
Ha! Of course, the first place we passed was a natural food stand, with apples, oranges, salad fixins, etc. I should have gotten a salad, in retrospect.  Instead, I was dying for some good baseball food. I chose a sweet Italian sausage. I had about one-third of the sandwich and almost none of the bun. It was not very tasty, and I was glad to throw the rest out.  ($8 down the drain. 76 calories)  I then ordered  Heiffeweisen beer, and that was well worth the money! ($6 I think? And 130 calories).  Later in the game I ordered a frozen yogurt and ate half of it (I gave the other half to my husband). That was another $5 or so, and perhaps 175 calories?  I snuck in a red bull, and that was 100 calories.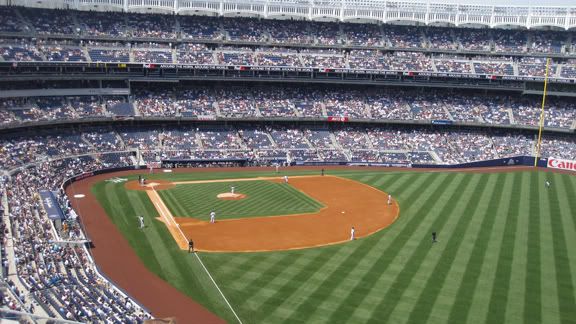 After the game, I was hungry. I hadn't eaten much, and what I ate was not filling to me. See, I should have gotten the stupid salad!  What was I thinking? Our bus stopped at a rest area and I got a Whopper Junior and ate half of it (minus the bun) for 125 calories perhaps?   In total I had somewhere in the area of 800 calories, which is right about normal for me. Not bad for a "free" eating day, although I could have made much, MUCH healthier food choices.
Sunday I made up for all the bad choices by waking up and going immediately to the gym. I got a decent full-body weight training workout in the first 30 minutes (I have shoulder DOMS today!).  I typical weight train by doing four reps of about 10-12 lifts: each rep increases the amount of weight until the last rep, when I am shaking with effort.  I then did 30 minutes on the stair stepper.  I then jogged 1 mile at my usual speed (5.0 mph) but then decided to try 1 mile at a faster pace (6.0 mph). It kicked my butt — I could feel my heart racing, but I did it!  I spent the next four hours doing some housework: sanding and painting our modified television cabinet; cleaning out my vegetable garden; lifting heavy bags of garden soil; trimming the hedges; raking; cleaning the garage out. I was absolutely soaked in sweat when I was done with the day. I estimate that I probably burned 1000-1500 calories for the day.  I drank a TON of water. I should have eaten more though: After working out I had half of a protein shake (125 calories). I had a tunafish and vegetable salad for lunch, which I only ate half of (150). For dinner I had grilled steak, about 2 oz (110 calories); baked beans, not quite half a cup (120); and half a slice of texas toast (75 calories). Later I had two girlscout cookies (70 calories). That puts me in at 650 calories for the day, which was too low even for me.  I should have had more veggies, but I ran out; we need to go to the grocery store after work today!  These were unusual days for me: normally I eat 6-8 times a day, at 100-150 calories per "meal."
It was a rewarding and productive weekend. I hope I can say the same about my work week!
Wish me luck that I reach the 75 pound weight loss mark this week!